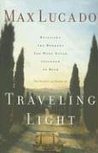 Traveling Light: Releasing the Burdens You Were Never Intended to Bear by Max Lucado
My rating: 4 of 5 stars
I received this book as a gift for Christmas 2012, and for a whole range of reasons haven't had a chance to read it. There always seemed to be something 'more important' to read – and I had I read this book I would have known that there probably wasn't.
Max Lucado walks the reader through the most famous Psalm of all – Psalm 23 – and shows us very clearly that reading this psalm should provide comfort in time of distress, but a reminder that God is prepared to take all of our burdens away, casting of the baggage that we are prone to carry, becoming free of those things that we are not meant to carry – or at the very least not carry alone.
I regret that it took me so long to finally read this book, but it's a regret that I won't be carrying with me into the future.